Estimated Reading Time: 9 minutes 30 seconds.
Successful entrepreneurs aren't born overnight. Their success stems from a particular mindset, initiative, and hard work.
These successful entrepreneurs have already proven they have what it takes to make dreams become reality. Each attained financial freedom, built a business they love, and they're willing to share what they've learned. Their entrepreneur quotes provide a glimpse into their mindset and why they've done so well.
If you're considering entrepreneurship, discover whether you think similarly to these successful entrepreneurs and why other entrepreneurial characteristics are so important. You could be your own boss and run a successful business too.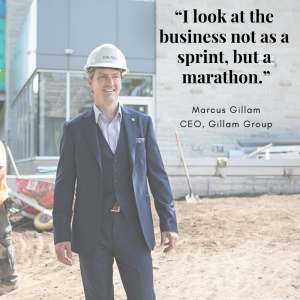 Marcus Gillam's name isn't as well-known as other famous Canadian entrepreneurs, but it will be soon. He's only 43-years old and his company, the Gillam Group, received the number one ranking in construction in 2018 on the Profit 500 list of Canada's Fastest-Growing Companies.
Gillam became a successful entrepreneur when he identified a need in the construction market. He doggedly pursued the market between smaller, local firms and large, highly-integrated construction companies. He also takes on projects others shy away from when they believe they're too complicated or their budgets and timelines are too demanding.
His first major project defined his company. Gillam said, "I immersed myself in the management of this project to ensure the outcome was consistent with my expectations. This approach was time-consuming and it certainly came at the expense of short-term growth."
However, his sensitivity to community needs, perseverance, and long-term vision paid off. Founded in 2011, his company's revenue grew more than 29,000% over the following years with revenues doubling every year for the first three years.
While his company's not as well-known like EllisDon, PCL, and Hatch, he's driven, focused, and always strives to finish projects on-time and on-budget. The Gillam Group generated between $50 and $100 million in revenues in 2017 alone.
Gillam knows you have to do what it takes to make clients happy. He wants clients to rely on his company as a trusted adviser and employs a "partnership model". This may include sharing offices with clients when necessary. The company also tailors their accounting and operational practices to the client's preferences.
Perhaps more importantly, Gillam isn't afraid to think outside of the box. He persistently looks for solutions and adapts, but always considers the client first. This obviously resonates with clients, since a sizable chunk of his work comes from repeat business and word-of-mouth.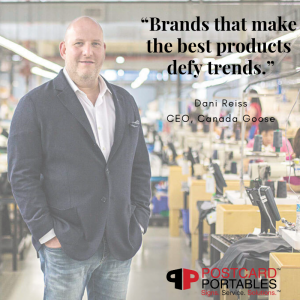 The Canada Goose company under Dani Reiss began in 2001. Their signature functional parka sold online and through luxury retailers, primarily to markets outside of Canada.
Selling clothing is risky business, but especially in retail. Many well-known retailers such as Danier Leather, Laura, Jacob, and Smart Set aren't around today. Increased pressure from online sales and globalization actually led to a 1.1 percent drop in sales in 2018, according to Statistics Canada. Even in the best years, it's difficult to succeed.
Many clothing manufacturers drop by the wayside too. Levis' manufacturing plants closed. The John Forsyth Shirt Co. and others just couldn't compete. It's not an industry for the faint of heart.
Compare that to the success of Canada Goose. Their revenue increased 393% over the past five years. Today, they have retail locations in Canada, the US, London and Tokyo with another 20 planned to open by 2020. They now sell hundreds of jacket styles, outerwear, and accessories.
Dani Reiss claims the reason for their success is functionality and quality. Reiss refused to outsource production to Asia to increase profit margins while sacrificing quality. Instead, Reiss launched sewing schools to train and employ Canadians and to protect their asset.
"We have a great legacy of craftsmanship, of being made here in Canada, and we felt that was an asset worth protecting." Marketing their product with our country's name in their brand and making the product within our borders are two powerful reasons many people pay more. They trust the brand, because they know it consistently offers quality.
Instead of going head-to-head with big retailers like Walmart with their own brands and cheap prices, Reiss tapped into a niche with consumers who wanted more than fast fashion. They were, and are still willing to pay for quality-made garments.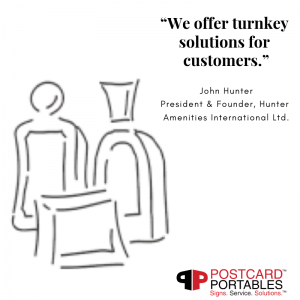 Hunter Amenities International Ltd. is a privately-owned company selected as one of Canada's 50 Best Managed Companies in Deloitte's leading business awards program.
This Burlington business began when John Hunter decided to make mouthwash for vending machines while attending university. He had little money and his mother tried to promote his vending machines, but no one was buying during the 80's recession.
Hunter spotted an opportunity when he noticed hotels wanted to supply their customers with amenities, other than just a bar of soap. Despite his vending machine failure, Hunter rented a small space and filled bottles with mouthwash. He landed his first customer- Canadian Pacific Hotels.
Hunter recalls, "We just started out kind of doing anything we could to survive." He realized it wasn't about the products he thought he should sell, but what the customer wanted and needed.
Hunter is an innovator and ninety percent of the company's products are custom-made for each client. The company launches about 25 new products annually, whereas the competition might release one. They also do everything in-house, from formulation to packaging.
By the early 90's, he'd expanded his company into the U.S. Today, the company has plants in China, Singapore, and Malaysia, and nine distribution points within Asia and the Middle East.
Their success is even more incredible, since they're up against U.S. competition and a 30 percent difference in currency. They've had to aggressively pursue new markets and add resources to compensate for their currency disadvantage.
"When everyone else is saying there's a horrible recession out there, we've been saying we're growing," said Hunter. "We've been lucky where we just didn't stagnate and kind of turtle shell and wait for things to get better, because they never will if you don't go out and go after it."
His resilient entrepreneurial spirit and dedication to turnkey solutions for clients are clearly factors in his success.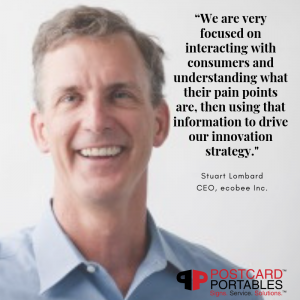 Stuart Lombard built a foldable canoe at 12-years of age and carried it around in his briefcase. His need to innovate led him to engineering studies in college, but when he graduated he didn't know what to do.
He took a job with CAE Electronics in Montreal and worked his way up through the ranks. Unfortunately, he also had the worst boss ever.
Nonetheless, Lombard looked at it as a blessing. It was a turning point in his life. He realized he could combine his passion for safeguarding the environment with engineering and business, and he had a very good idea how he could do it.
Lombard recognized people spend plenty of money on heating and cooling their houses, but most thermostats were still the same as they'd been for decades. They weren't "smart" or mobile-accessible. Lombard launched ecobee in 2007 so users could control their thermostat via their phone and save money.
Today, ecobee has a 35 percent share of the smart thermostat market. Buyers see the value since they can save around 23 percent on their heating and cooling bills annually, which pays for the unit quickly.
Their latest unit works with Alexa. Other units operate with Apple, IFTTT, Google, and Samsung since ecobee collaborated with them on the design. They sell their devices on Amazon and in retail stores such as Home Depot, Lowe's, Best Buy, and more.
The company has secured substantial funding from the Amazon Alexa fund and Lombard won the prestigious EY Entrepreneur Of The Year 2018 Ontario for Technology/Cleantech. The company has also partnered with the Canadian government and power utility companies to install smart thermostats, sometimes for free.
The company highly values customer opinions. It's all about making precisely what the customer needs and delivering a great customer experience.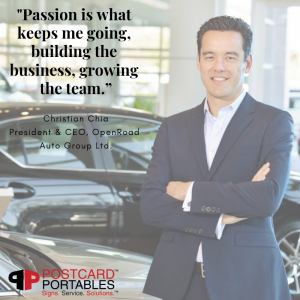 OpenRoad is the largest auto retailer in BC with 23 dealerships and 3 collision centres. Their CEO, Christian Chia, is a well-known innovator with great passion for anything automotive.
His education was in finance, but he found it boring. He realized he didn't want to be the person arranging financing for business – he wanted to be the one using the capital.
He left finance and went to work at Toyota. He describes his position as "the lowest of the low." He had to fight to get business cards, but he had no title. However, his training included hard work in their factory and he learned strong values such as putting the customer and dealer before the manufacturer. He says many of the lessons he learned are now part of his DNA.
Chia led the way when he centralized the back office of his retail car business, unusual for the time. He maintained one location with accounting, HR, and marketing and then dealerships tapped into the services as they needed them.
The company also had a solid growth strategy, because Chia believed size and scale provided more marketing and training opportunities so they could remain on the leading edge of automotive retail.
He still contends you don't need a particular educational profile or specific experience to do well in his industry either. "You need to want to be an automotive professional – you want to be the very best in the industry, and in the field of expertise you have."
Chia believes teamwork is vital to success too. He states, "I always want to build the team. Our industry is hypercompetitive. It's a small, low-margin, high-volume business. We're a competitive organization. We like to win, but I believe we have a shared ownership of those sales targets, of those customer satisfaction targets. I subscribe to the definition of a CEO being a communicator of that vision, of that strategy".
He says, "Passion is still at the root and heart of who we are as an organization. In essence, we are a franchise business. We need to differentiate ourselves in other ways, and for us that difference is the service and purchase experience."
The automotive mogul doesn't fool himself about the possibility of disruption to his business model either. Ride-sharing, autonomous vehicles, and other advances could shake up the centuries old franchise model. However, he sees technology as a potential way to collaborate, rather than a barrier.
His latest venture, PORTFOLIO, provides an affordable way for car enthusiasts to get behind the wheel of four luxury brands per month including Porsche, Land Rover, Jaguar, Lexus, Mercedes-Benz, BMW, Genesis, Infiniti and Audi and all for a flat monthly fee. Users access the program through an application-based subscription service on their smartphone. Obviously, Chia continues to innovate and his passion still drives his business.
EY also recognized his innovation, customer service, and teamwork strategies when they awarded him with Entrepreneur of the Year award for Business to Consumer excellence in the Pacific area.
*****
You've read what these successful entrepreneurs say it takes to achieve success. If you're itching to become an entrepreneur, Postcard Portables has franchise opportunities throughout Canada. It is simple to get started operating your home- based business.
Our highly-respected brand and franchise network offers unlimited growth potential for a low investment amount. Ask yourself: Are you ready to make a mark in your community and have the work/life balance you deserve? If so, then it's time to sign. Contact us to learn more.