Estimated Reading Time: 9 minutes 36 seconds.
Do you desire financial freedom and a great work/life balance? Entrepreneur quotes from successful entrepreneurs can help you understand what it takes to create a life and business you love.
Imagine for a moment that your life is an empty canvas. You hold the brush and the power to paint your life any way you like. What would your work of art look like? Becoming an entrepreneur isn't easy. Entrepreneurship has unique challenges which requires unique attributes, but it also offers countless benefits. Let's look at entrepreneur quotes that help you visualize whether you can see yourself following these entrepreneurs' lead, as well as teach you some strokes to create your own masterpiece.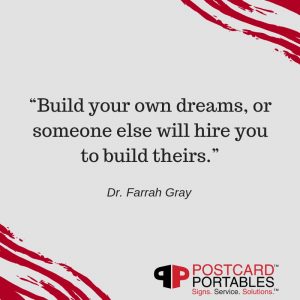 Farrah Gray started selling handmade lotion and painted rocks door-to-door at age six to help his struggling parents. At age seven, he carried business cards reading "21st Century CEO."
At the same age, he told a teacher he was going to be a millionaire entrepreneur. She said, "No you're not. You're poor and your family's poor. You'd better find someone to go work for," and pointed towards McDonald's.
Fortunately, his grandmother told him if you believe in yourself, you can accomplish anything. Ask yourself, "Why not me?" He ignored his teacher's criticism, recognized he was good at what he did, and by 14-years old he was a self-made millionaire.
He's now a motivational speaker and repeatedly states we all have dreams and seeds of greatness, but you must act to make them grow. Show up, pursue opportunities with a vengeance, and don't wait for it to knock on the door. Find mentors, surround yourself with good people, and go after your dreams.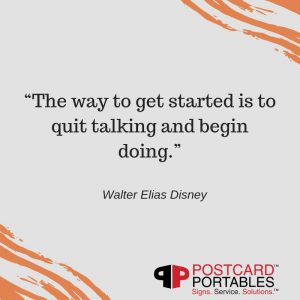 Walt Disney originally animated for advertising, but found advertising unfulfilling. His passion was for putting pen to paper to create an escape from the negativity of the world. He wanted to create a beautiful, entertaining environment instead.
He converted his garage into a studio, borrowed equipment, and made animated shorts. However, local theaters didn't want to show them. He had no money so he moved into his office and ate cold beans- definitely not the happiest place on earth!
He partnered with his brother, but had his first successful creation stolen. No one believed in his vision for Disneyland either and thought it would be a spectacular failure.
"I couldn't get anybody to go along with me. But I kept working on it and I worked on it with my own money." He even hocked his life insurance to make it become a reality.
Disney continually innovated, worked long hours, and nurtured his business. He also pioneered branding and merchandising which accounts for 25 percent of Disney's revenues today.
Disney's success proves dreams alone aren't enough. You need to turn those dreams into actions to make them a reality.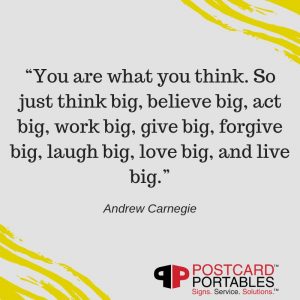 Andrew Carnegie came from humble roots, but that didn't stop him from dreaming big. He worked as a bobbin boy in a cotton factory at thirteen-years old, taught himself to operate a telegraph, and was the superintendent of the Pennsylvania Railroad Company's western regional office before he was twenty-five. By thirty he'd set off on his own, worked in steel, and later became an industry magnate worth a fortune.
However, Carnegie's legacy isn't about wealth. It's about the importance of valuing life. His lifelong focus was on family, helping others, education, and social justice demonstrating that success is far more than earning money.
Running your own business is about generating resources to do what you want so that you can champion what you honour and value.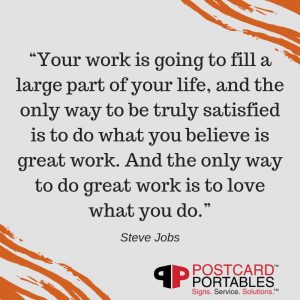 Steve Jobs' name has become synonymous with entrepreneurial success. His early interest in electronics and gadgetry led to an internship at Hewlett-Packard, where he met his future partner, Steve Wozniak.
Wozniak was an engineer and he'd built a small computer, but Jobs had a vision – get small computers in the hands of everyday people. At twenty-years old, the two sold everything they owned and set up shop in Jobs' parents' garage and Apple Computer was born.
Apple eventually ousted Jobs, and sales plummeted. The organization lacked his vision, drive, and pioneering spirit. When Jobs returned, his passion and innovation rejuvenated the company. Today, Apple Computer is worth almost $1 trillion.
Steve Jobs demonstrates vision and passion are essential qualities for business success and longevity. They're what keep you going when times get tough and lead to innovation.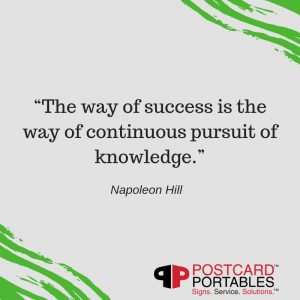 Mr. Hill certainly demonstrated his passion for learning through formal education and experience. He was a reporter, studied law, started an automobile college and an institute of advertising, and published several magazines.
He interviewed many of the most influential people of his time and summarized their secrets of success in a book. He also wrote one of the 10 best-selling self-help books of all time. He pursued mentors and continually sought knowledge.
Self-education and personal growth are essential qualities for any entrepreneur. They need to continually learn to stay on top of new trends and technologies to remain relevant.
You don't necessarily need to set foot in a classroom to learn either. Online classes, seminars, books, blogs, and meeting leaders are great ways to expand your knowledge.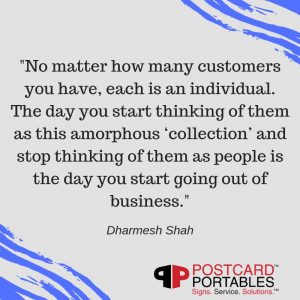 Dharmesh and his partner met at MIT. They founded Hubspot when they realized people no longer responded to marketing and sales intrusions, and traditional tactics. Customers felt they were impersonal and irritating, not helpful.
They decided Hubspot would humanize the marketing and sales process and help people instead. By providing high-quality materials and services, people were more likely to connect and buy. Their revenues were $255,000 in 2007. Their estimated revenues for 2018 are $496.8 million.
These results show entrepreneurs must focus on the customer first; not on themselves or their business. The rest falls into place when you provide customers with what they need.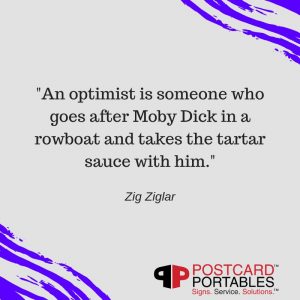 If anyone had a reason to be pessimistic about life, it was Ziglar. He was born one of twelve children, died nine days later, and then came back to life in his grandmother's arms. His father and sister passed away five years later and his mom raised the huge family alone.
He tried college, dropped out, and had an inferiority complex. He entered sales, did well, and later wrote a book. Thirty publishing houses rejected it, but he remained hopeful. Finally, the thirty-first said, "Yes".
His positivity in the face of adversity led to a fulfilling career of empowering others to succeed in their professional and personal lives. He published countless best-sellers and touched millions of people's lives.
We can all learn from Ziglar's positive outlook. Stay positive no matter what life throws at you and you will eventually succeed in business and in life.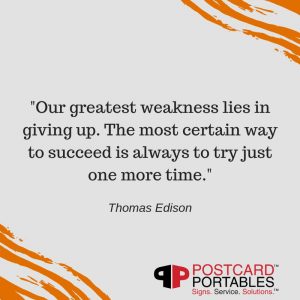 Thomas Edison only went to school for a few months, but his mother taught him the basics. However, he continually read scientific and technical books, and taught himself to operate a telegraph. By sixteen, he was a telegraph operator and travelled extensively.
His first invention was a failure and he worked for ten years before he achieved commercial success. After that, he lost all his investment money on his latest invention since it never took off commercially.
Despite the setback, he continued on with more promising ventures. He became an industrialist and eventually an icon of ingenuity credited with 1,093 inventions.
It's clear, any entrepreneur must be willing to carry on and innovate if they want to achieve success in business. Perseverance leads to success.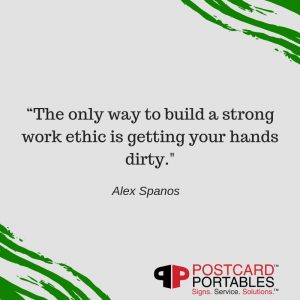 Spanos started working in his father's bakery at eight-years old. In his teens, he borrowed money to buy an old truck and sold sandwiches to migrant workers. He worked by himself for long hours.
By the time he was 32, he'd made his first million. He'd learned the ins and outs of business through hard work and experience. He continued to build his fortune by investing in real estate and building apartments, but he remained a hands-on operator throughout his life.
Spanos demonstrates you must work hard and dedicate yourself to your dream. No one achieves instant success – it takes sweat equity. Start small, build a strong foundation, and then expand the structure. You reap the benefits of your hard work, so it's well-worth your effort.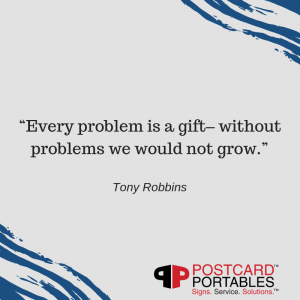 Robbins' home life as a child was not rosy. His parents divorced and his mother was drug and alcohol dependent. Robbins cared for his siblings and the home. Eventually, his mother chased him out of the house with a knife.
By 17, he was out of high school and working as a janitor for $40 a week. He wanted to attend college for a sports journalism degree. However, he looked at his situation as a setback, not a dead end.
He saved up $35, attended a motivational seminar, asked the speaker for a job, and was hired. Robbins worked long hours, but wasn't seeing results. His boss and mentor told Robbins to focus on building a skillset so he could offer more value.
He took his advice and started to build a brand, but a partner stuck him with a $150 million bill. He also divorced his wife after 14 years. Despite these setbacks, Robbins carried on and learned from the experience.
"I've come to believe that all my past failure and frustration was actually laying the foundation for the understandings that have created the new level of living I now enjoy." His challenges and experiences helped him learn and grow.
Clearly, discovering how to overcome problems is an important characteristic of any successful entrepreneur.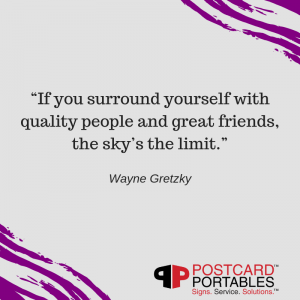 Canada's enduring hockey legend is also a very successful entrepreneur. The Great One not only smashed countless league records, he continues to win in the business world long after retirement.
What's behind his success? With 60 league records, including an incredible number of assists, it's clear he doesn't hog the puck. He believes in teamwork, and empowers those around him to achieve more.
It's well-documented that his dad and Gordie Howe inspired him throughout his life. He's always relied on mentors. He learned, "One person doesn't make the game – it takes everyone. When you work together, you can accomplish great things."
Today, he continues to collaborate with others and runs hockey camps in Canada, the United States and China, since they'll host the 2022 Olympics in Beijing. His net worth is $200 million.
*****
These successful entrepreneurs offer insights into a few of the attributes you need for business success. If you want to know more, read our Q & A post "What Are Entrepreneurial Characteristics".
How will you paint your story? If you're considering entrepreneurship, Postcard Portables has franchise opportunities throughout Canada. It is simple to get started operating your home- based business.
Our highly-respected brand and franchise network offers unlimited growth potential for a low investment amount. Ask yourself: Are you ready to make a mark in your community and have the work/life balance you deserve? If so, then it's time to sign. Contact us to learn more.