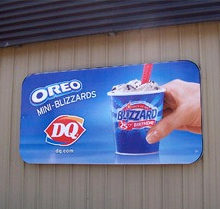 Mini-billboards are a great promotional tool to have in your company's arsenal. Smaller and less expensive than traditional roadside billboards, these smaller signs can have a big impact on your sales and brand awareness. Here are five top ways you can advertise with mini-billboards to give your business a boost.
Use them to promote special events
Need a quick, relevant graphic on display for a special event or limited time promotion? Mini-billboards are perfect for adding a quick punch to existing outdoor promotions to allow you to highlight an upcoming event or sale. Think of them as another 'reminder' to your customers–just like emails, print, and radio ads–that can be used to drive home a message any time you need to.
Use to promote AT special events
Is there an event in your community that would offer you the perfect opportunity to grow your brand recognition? Want the perfect signage for that event? A mini-billboard is small enough to use at venues outside of your business space, but large enough to make a great impact among your customers and potential customers.
Use them when space is limited
You don't have enough room for a huge sign or billboard outside your business, but you probably have enough room for a mini-billboard. Because of their compact size, you can use these outdoor signs in places that might surprise you. Squeeze one into a neglected corner of your property, slide one onto that roadside strip that gets lots of drive-by traffic, or tuck one into an empty corner of your parking lot for customers to see as they enter and leave. You'd be surprised how many places you can fit a mini-billboard for extra exposure.
Use multiple mini-billboards for greater impact
Like with most advertising, you can't just stick up one mini-billboard and expect amazing results (though, admittedly, it can happen). For a better impact, spread your message by placing the same graphic in several busy locations for a scattershot effect. The more people that see your outdoor advertising, the better your chances are of a good ROI.
Use them to lure traffic to your business
You don't have to be located on a busy road to get plenty of traffic, but you can take advantage of said traffic to bring people into your business. Place a mini-billboard near the street so that even if your business can't be seen by passing cars, they'll still know where to look for you.
Contact Postcard Portables today for all your outdoor advertising needs!