Business owners often wonder how to build business relationships that last. After all, it's not the number of names you have in your database that counts, but whether these contacts become steady customers that consistently rely on your business.
In many ways, building business relationships is much like building a great personal relationship. Here's how you can turn an initial "blind date" into a lasting customer relationship.
LOOK GOOD
You probably wouldn't ask someone out on a first date if they looked unkempt or didn't present themselves well. Similarly, potential clients will look elsewhere for a more suitable "partner" if your business doesn't project a crisp, professional image.
Make sure your business "looks good" through professional branding. It reflects who you are and what you do. When you combine good branding with top-notch products, potential customers get a good first impression and a peek into your business.
For instance, the best business cards designs do this well. They capture the spirit of the business, feel substantial in the hand, and provide vital contact information. They're simple, eye-catching, and deliver a clear message.
With so many more affordable advertising options available today, there's no end to the ways you can promote your brand, products, and services either. The mini-billboard is an excellent outdoor option since it offers impact, without the capital cost. It's also portable, so you can position it to wherever potential customers are most likely to see it.
Whatever marketing avenues you choose, create a professional brand and use it consistently throughout all your advertising mediums. The more times a person "touches" your brand, the more likely they'll remember it and connect.
SHARE YOUR VALUES
When dating, you're usually drawn to a person with similar values. Similarly, potential clients are more likely to connect with a company when they relate to its values.
Relay your business values to potential customers. Are you committed to sustainability, innovation, excellence, community, customer service, honesty, compassion, reliability, efficiency, or something else? If they don't know who you are and what you stand for, how can they trust you?
When people trust you, they're more likely to become your customer. It is also more likely they'll recommend you to others with similar values, such as their friends, family, and trusted co-workers.
BE AUTHENTIC
You wouldn't date a person for long if you discovered they were dishonest or deceptive. Equally, you can't make false promises in hopes of building a sustainable business.
People recognize inauthentic brands are only out for a quick sale. They resent it since they want to trust the companies they deal with so they can forge lasting relationships. Always tell people what you will do, and then do it. Never promise what you can't deliver.
HONE YOUR SOFT SKILLS
Would you be more likely to date a person that makes you feel comfortable or one that makes you want to run for the door? Chances are you'd rather spend time with the person with good "soft skills".
Soft skills are essential since they help earn trust. They include listening carefully, empathising, and communicating clearly. Simple techniques to achieve this include acknowledging the person and treating them as an equal, making eye contact, and using friendly body language.
Other soft skills include finding creative solutions, exuding confidence instead of arrogance, and learning how to negotiate and diffuse tense situations.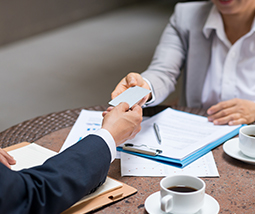 GIVE SUPPORT
Would you commit to a person who took everything you gave them without receiving even a small gesture in return? It's not much different in business. Your company needs to give to your customers before you can expect them to become loyal to your brand.
Collect contact information and consider sending friendly reminders, birthday greetings, or a monthly newsletter. Invite customers to a hosted event with snacks and beverages.
Recurring revenue eases cash flow constraints, but more importantly happy customers become long-term customers and are more likely to speak highly of your brand.
Offer your customer a discount on their next purchase or when they exceed a set spending limit. Give away inexpensive branded items, such as calendars or notepads with your company logo and contact information. These are small, yet effective ways to keep your business top-of-mind.
Other ways to show customers you appreciate their business are as simple as sending them a personalized email or seasonal greeting card or postcard. Of course, a friendly handshake and a hearty "Thank you!" go a long way too.
Why go to all the trouble? First, it costs 5 to 10 times more to acquire a new customer than it does to sell to an existing one. Second, current customers spend about 67% more and they're more willing to try new products and services.
PAMPER KEY RELATIONSHIPS
You would want to keep dating someone who is positive and fun, but what about that pesky co-worker or neighbour that eats up your time? Should you spend as much time on them when all they do is frustrate you?
The 80/20 rule, states 20 percent of your customers generate 80 percent of your revenue, and you know who they are. They're less demanding, spend more money, and they're the backbone of your business.
What you may not realize is the best of this 20 percent is a good place to focus your efforts if you want to build more lasting, beneficial relationships. When you pamper these customers, you're more likely to get referrals to more like-minded people. This leads to more revenue generation with much less effort and who wouldn't want that?
FOCUS ON THE LOCAL LANDSCAPE
Would you be more inclined to date someone who lives nearby or halfway around the planet? Chances are you'd focus closer to home. In business your local community offers a treasure trove of opportunity, because you often have similar values and preferences.
Despite the rise of internet shopping, Canadians still prefer to buy in-person. They like to browse, talk to a person, read literature, and touch products. Even if you run a home-based business or internet enterprise, you can tap into this preference by meeting people face-to-face whenever you can.
Building Business Relationships Postcard Portables
STEP OUT OF YOUR COMFORT ZONE
You certainly wouldn't expect to meet many new people if you always went to the same places and met with the same friends. It's no different in business.
All too often companies focus on the same marketing efforts and never step out of their comfort zone. They can't understand why they're not getting great, new customers or why their existing customers drop off. Your customers change and so should your marketing efforts.
Advertising is always about reaching your ideal customer. If they're young and tech-savvy, add a website address or hashtag to your material, and be active on social media. If your go-to advertising is a print ad, but your audience rarely reads the paper, why not try car magnets or a banner so you can reach them on their commute?
If you don't give an existing customer a reason to reconnect, they could buy from someone who offers what you already have. Let them know about new products and services.
Diversify your networks, reach out in new ways, grab new leads, and retain your valued customers.
TIME TO COMINGLE?
Sharing life with another person adds variety and expands your horizons. Similarly, comingling with another business and combining resources can be equally advantageous. You can tap into new markets, find your best customers, and increase sales.
A joint venture can be as simple as marketing to each other's customer list or sharing advertising costs and resources. For instance, if you offer financial advice, you might want to join forces with a lawyer. If you operate a garage, you might want to partner with a paint shop.
Joint ventures are very flexible, and you define the parameters together. For instance, you may want to run an advertising campaign for a set time and split the expenses. If both parties clearly understand the expectations and limitations, it can be very beneficial.
When a trusted company endorses your business, it can lead to great long-term, valuable customers. They already trust the other business, so they're more likely to pay attention to you too.
OPEN COMMUNICATION
Just like dating, in business you need to have open communication and actively seek customers' feedback to discover what you're doing right and how to improve.
Invite anonymous customer feedback if you want honest answers. Big brands like Ford track customer satisfaction and "Things Gone Wrong" from initial contact through how they manage product issues and customer complaints. Use surveys and develop strategies to ease tensions if things do go awry.
MONITOR WHAT PEOPLE THINK
Would you date someone if all your friends said they were horrible? Today's online reviews carry that much weight.
Bright Local's annual review survey for 2018 revealed some notable information, especially if you operate a local business. It concluded 86% of consumers read local business reviews, but that figure rises to 95% for those between the age of 18 and 34. Additionally, over half of all consumers will not use a business if it doesn't have at least a 4-star rating.
The younger demographic writes online reviews more often than those over 55, but what's more significant is they also trust online reviews as much as a personal recommendation. Basically, good reviews are as valuable as a referral from a trusted friend.
So, how can you discover what people are saying about your company, products, and services? Google Alerts is a free service you can subscribe to when you have a Google account. Establish which keywords or phrases you want to monitor and then select how you want to receive the information. You can receive real-time monitoring via email or daily or weekly digests.
Social Mention monitors over 100 social media sites directly, such as Google, Facebook, YouTube, Twitter, and more. Just type in your brand, product, service, or keyword in the search field and measure the buzz. The app ranks the strength of the keyword, whether people are positive, negative, or neutral about it, and who uses the search item the most.
You can also access comments and users, which can be extraordinarily helpful if you want to understand who's talking about your business and your competitors.
The survey mentioned also found 89% of consumers read the responses businesses leave for customer reviews, so it's very important you handle them properly. Don't ignore them. You can't delete negative ratings, but you can handle them professionally to lessen their impact. Good reviews are gold mines you should leverage whenever possible.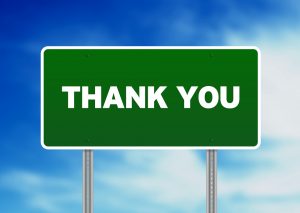 Building Business Relationships Postcard Portables
If someone leaves your company a glowing review – thank them. Always mention your business name so your comment pops up in the search engines. Also highlight something about your business such as a product or service you offer and invite the person to try it out the next time they connect with your business.
Reply to negative comments to show your company's responsive and not just sweeping problems under the carpet. People want to know you're taking steps to remedy the problem.
Apologize and sympathise with their concerns so the person feels you've listened. Keep your response under 3 sentences, reiterate your company values such a commitment to customer service and high-quality products, but DON'T mention your company name. Otherwise, the negative review will keep showing up in searches.
Also provide the person with direct contact information to a person in your business. This keeps any negative comments off the internet and makes it more likely you'll come to an amicable resolution.
Don't forget to ask people who like your products and services to leave positive reviews for your company. They're increasingly important as customers rely more and more on the internet and mobile devices.
Dating isn't always easy, and neither is building business relationships. It takes devotion and dedication. It is well worth your time to find committed customers who fall in love with your business and champion your success.
Postcard Portables offers many products to help you build business relationships that endure. We're not just a sign company – we offer advertising, networking, and relationship building solutions.
CONTACT US ANYTIME – We're always happy to help!