The best business card designs aren't just attractive. They're an effective networking tool to help your business grow and flourish. Despite digital advances, face-to-face interaction remains a primary trust building mechanism. It is important that your business card design packs a punch to differentiate you from the competition and create a lasting impression. Entrepreneur states "The business card is one thing that digital will not fully replace anytime soon." Why? Here are eight great reasons why a well-designed business card can help squash your competition.
1. PERSONALIZED ENCOUNTERS
First, we do plenty of business digitally, but it's highly impersonal. Certainly you can send contact information via a text of email, but unless a person's expecting it they'll likely send it to the trash. In our busy world, it might end up there anyway. People like to connect with people. Electronic connections don't provide a friendly smile, direct eye contact, a firm handshake, and a physical keepsake. Business cards are still the most effective direct marketing tool. When you meet someone in-person they connect your face to your name and business. If they're interested in you and your business, they can easily transfer the information to their phone, but they met you and that means a lot in an impersonal digital world.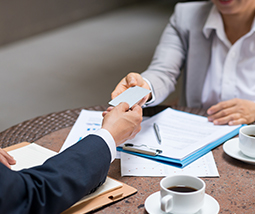 2. POLITE ENGAGEMENT
You never know when you might run into a potential lead or an ideal candidate for your business network. It may not be appropriate to whip out your mobile phone to record contact information when you're enjoying a casual conversation in an airport lounge or while sitting in a coffee shop. Engage with the person first and then offer your card. Business cards are a polite invitation to connect without being too presumptuous. Exchanging business cards shows proper business etiquette, especially when dealing with certain cultures.
3. GREAT FIRST IMPRESSION
The best business card designs provide a great first impression of you and your company. They're attractive, memorable, and deliver far more information than just your name, phone number, and email address. A well-designed business card using proper card stock weight, professional graphics, eye-catching colours, and easy-to-read text instantly projects who you are and what you do.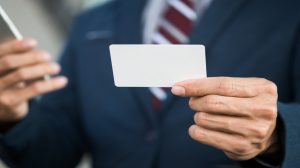 4.PEOPLE REMEMBER GOOD CARDS
Inc.com suggests anything that makes a business card feel different in your hand or more eye-catching can make you stand out from the competition. However, your business card should always reflect your business and industry. Don't go for glitz if you run a funeral home or create a card without an image if you're a photographer. You want people to understand what you offer and remember you, but not because your card's poorly designed.
5.BUSINESS CARDS ARE PORTABLE, AFFORDABLE & SHAREABLE
Business cards provide the essential contact information a person needs to reach you or your business. They're quickly exchanged at events, conferences, and other networking opportunities. They're also a great supplement to your digital connections. When you're heavily invested in social media, include your links to your platforms. If you're in sales, add your photo as a physical reminder of you, your company, and how you connected with the person. Business cards are also very affordable. Print thousands for the cost of a single ad and hand them out to people that are truly interested in what you offer, instead of hoping they might notice your business. Even if they don't need your products or services, they might give your card to someone that does.
6.INCREASE TOUCHPOINTS
Today's customer can connect with a brand in so many ways it's more important than ever you "touch" them where they visit and as often as possible. According to a study by Kitewheel, one of the highest retail channel growth rates was in-store (116%). Social media interactions shrank 58% and mobile shrank 50%. Clearly, people still want to meet face-to-face before they connect and buy.
7. NOT EVERYONE LOVES DIGITAL
Let's face it – many customers and business leaders aren't necessarily computer savvy. Some people simply can't be bothered with technology, especially since it is so impersonal. Others have staff tending to their electronic needs, rather than dealing with it themselves.
If you run a local business with a mature population, you could miss out on a huge chunk of your market if you rely on online and social media alone. Also, when you limit yourself to electronic connections you could bypass established, old school mentors with plenty to offer.
8.THEY CAN SELL PRODUCTS OR SERVICES
Your business card doesn't need to be boring and staid. Add a link to your online store or an image of your product. The best business card designs often tell a story about your brand's products and services so the recipient knows what to expect when they follow up after they receive your card. If you operate a brick-and-mortar business, business cards are more important than ever. Use them to direct people to your business and to promote particular products and services affordably.
Now that you have the many reasons why business cards are important, what are the Do's and Don'ts of best business card designs?

BEST BUSINESS CARD DESIGNS – DO'S & DON'TS
You wouldn't want to walk into an important business meeting without a shower and fresh clothes, so don't make these business card mistakes either. They can portray an equally poor image of you and your business.
DON'T
Clutter up your card – don't try to include too much information. Keep it simple and allow plenty of space between lines of text.
> Use complex images – choose a simple image or logo so the recipient doesn't spend more time trying to figure out your image than connecting with your business.
> Use illegible fonts – avoid script, novelty, ultra-bold, or very thin fonts. Don't use drop shadows, underlining, or italics either. Your text should be highly-legible.
> Place text over images – this makes it very hard to read the text.
> Choose thin card stock – the price difference between standard and premium stock is negligible. Choosing the cheapest option leaves a poor impression.
> Laminate – people often write on the back of business cards. The exception might be if you offer memberships or other ongoing offers, since they'll use the card repeatedly.
Now that you know what to avoid, focus on how to make a good impression. Here are a few tips to create the best business card designs to knockout the competition.
DO
> Use professionals – don't rely on templates or online companies for your business card design. Cheap, generic cards are easy to spot and don't project a professional image.
> Choose a local supplier with a professional graphic design team instead. They're competitively-priced and include top-notch graphic design in their printing costs.
> Choose heavier stock – bump up your business card's "weight class" with a heavier paper stock that shows you're putting some muscle behind your brand and that your business doesn't sacrifice quality over cost.
> Stick to the standard size – with so many options available, it doesn't make sense to use an unusual size. You can choose rounded corners, embossed lettering, metallic finishes, and more to create a unique and memorable business card.
Unusual sized cards cost more and they're often inconvenient, so they'll end up in the garbage instead of in a lead's pocket or wallet.
> Choose text carefully – include the most important information and nix the rest. Your name, company logo, phone number, email address, and website are always good to have. Your physical address isn't necessary unless it's vital to your business type.
> Consider the back – the back of your business card can be used for additional information such as a map if it's hard to find your physical location or a summary of your services. However, most people assume the back is blank, so don't use it for critical information or advertising. Advertising muddies your brand message.
Business cards are just one of the powerful paper products we provide to improve your networking success. They're affordable and necessary for business success, despite today's digital environment.
Postcard Portables can help you design the ideal business card for your needs. We offer professional graphic design expertise and world-class print facilities at a very affordable price. We're not just a sign company – we offer advertising solutions.
CONTACT US ANYTIME – We're always happy to help!