Advertising your business at events can be tricky. You want to stand out, but you may have very little space or time in which to set up. Pull up banner stands can make the job of getting your message out much easier. Here are some of the benefits of using a pull up banner stand for events.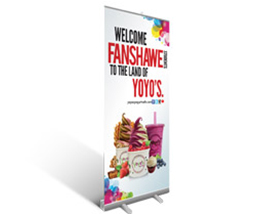 They're cost effective
Want a display piece that makes a big impact without costing a small fortune? Pull up banners are reasonably priced, more affordable than some other types of displays, so you can afford to buy multiples to cover large display areas. Or, you can afford to change your banner more often in order to remain relevant to your audience. Since they can be used again and again, you won't have any problem getting your money's worth.
They're travel-friendly
Who wants to carry heavy display stands around, spend ages trying to get them set up, battle to squeeze them into a tiny exhibition space, only to turn around and take it all down again a few hours later? Yeah, we didn't think so. Pull up banner stands are simple to operate and take up very little space. They go up easily, pack away quickly and efficiently, and they are highly portable so you can put them where your traffic can see them. This is ideal if you only have one or two employees working an event–minimal setup and breakdown times mean more networking for your staff. Another plus–most pull up banners fit in very small cases that can be kept in the back of your car, or travel on an airplane as a carry on item, so you'll always have a display on hand when you need one.
They add a professional touch to any event
No matter how small your advertising budget is, a slick pull up banner will make your presentation look professional and polished. Whether you're making an appearance at a community event or working a tradeshow, your business will be represented beautifully with a customized banner. Because they're a trouble-free way to promote your business, you can spend your time 'meeting and greeting' instead of minding your business display.
Need more tradeshow signage ideas, or need help designing a customized pull-up banner for your event? Speak with a Postcard Portables representative today for all your advertising needs.