SOMETIMES LOCAL BUSINESSES BELIEVE ADVERTISING IS BEYOND THEIR BUDGET. THIS IS UNFORTUNATE, BECAUSE EFFECTIVE ADVERTISING SOLUTIONS AND AFFORDABILITY AREN'T MUTUALLY EXCLUSIVE.
POSTCARD PORTABLES OFFERS MANY PRODUCTS TO INCREASE REACH AND BUILD YOUR BRAND, WITHOUT BREAKING THE BANK. HERE ARE JUST A FEW OF OUR INNOVATIVE SMALL FORMAT PRINT SOLUTIONS YOU MAY WANT TO CONSIDER.
POSTERS
Bold, full colour posters are an excellent way to create brand awareness. Posters suit indoor areas such as waiting rooms, elevators, bulletin boards, and windows and they're easily laminated for extended use. We can print posters to fit standard frames too if you want a polished, professional display.
POSTCARDS
Instead of sending out direct mail letters, why not try postcards? The unusual format is sure to grab the reader's attention. They're also double-sided, so you have plenty of room to deliver your message. Use them to generate leads, reconnect with past clients, or announce new products, services, or events.
GREETING CARDS
Who can resist reading a greeting card? They're friendly, attractive, and colourful and the ultimate small format print solution for businesses on a budget.
Add a photo related to your business, and your message within, or create your own greeting card line and sell them in your retail outlet.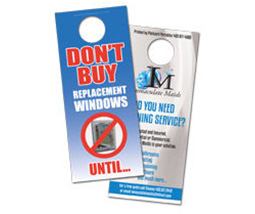 DOOR HANGERS
Door hangers are powerful promotional tools, but often overlooked. They're not just for hotel room doors. Distribute door hangers locally to promote a sale or as an invitation to an event such as a grand opening. Include a coupon on a door hanger to entice potential clients to your brick and mortar store.
TENT CARDS
These small freestanding tabletop printed cards work well in restaurants, on a business counter, a board room table, or at any special event. Postcard Portables prints full colour, double-sided tent cards with complete design freedom.
TEAR CARDS
Tear cards pull apart, so they're ideal for coupons. You can also create a tear card with a pull away business card, frequent shopper card, or appointment card. They're especially beneficial because people see your brand and promotional message twice.
CAR MAGNETS
Do you or your employees travel for work? Why not take advantage of the captive audience behind the wheel? Postcard Portables creates custom car magnets to match your brand and vehicle colour. They're easily swapped to another vehicle and made to withstand inclement weather.
WINDOW CLINGS
Postcard Portables offers single and double-sided window clings to display your business hours, prices, sales, specials, or recurring events. They're affordable, reusable and made to last.
At Postcard Portables, we don't just design and rent signs. We offer consistent branding and printed business solutions and for all your needs. Let us help you increase your traffic and sales, while you watch your business grow.
If you have questions, please contact us. We have innovative, affordable solutions and provide no-obligation quotes.