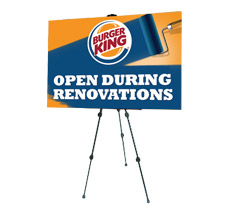 Choosing tradeshow signage is a delicate art. You have to consider a number of factors before you decide what type of signage to display, from how much space you'll have to where you'll be located in the venue. Here are some tips to help you choose the right signage for your next tradeshow.
Limited space
When it comes to tradeshows, space is often at a premium. You'll want something that is lightweight, easy to set up, and that won't take up a huge amount of space. Even a typical easel with foam board may be too large for some tradeshow booths, but a pull up banner stand is ideal in this situation. Because it's relatively flat and doesn't take up a great deal of floor space, this flat graphic can grab attention without hogging the floor.
Take advantage of traffic
If you're in a spot that sees traffic from both directions, opt for a sign that lets you advertise in both directions. A-frames do just that, plus they set up in a jiffy. They work well in any trade booth, but if you happen to be on a corner or end of a row, you can be seen by traffic in all different directions.
Keep setup simple
You really want to keep your setup simple at a trade show. Opt for signage that is lightweight and that folds away quickly and easily. X-frame banners are a great choice for trade shows because they assemble quickly and easily, and they disassemble just as quickly and easily. Plus, lightweight canvas banners won't weigh you down when you're carrying your display items from your vehicle to the venue. The last thing you want is to wear yourself out carrying heavy, complicated signage to and from your trade show venue, so choose signs that are 'user friendly' for these events.
Foam board is your friend
Foam board is just about the most user-friendly tradeshow signage you can find. It can be mounted on a frame, stuck in an easel, or tacked to a wall using double-sided tape. Best of all, it weighs very little, so you can carry several foam board signs to use in your tradeshow display.
Contact Postcard Portables today for all your tradeshow signage needs.