Life doesn't always go as planned. Some might say that life rarely goes as planned. Kyle Moffatt from the Regina franchise location can certainly relate. Although, Kyle would add that sometimes the outcomes of the opportunities that were not originally part of the plan, can end up being even better than once imagined.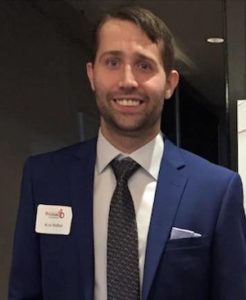 Unique to Kyle's story is the fact that Kyle actually never really set out to become a franchise owner. Kyle's father, Wade, a VP at CTV Canada and in the advertising industry for 25 years, is to credit for the preliminary success of the Postcard Portables Regina location. When Wade discovered the opportunity to become a franchisee it seemed like a logical next step, especially since he was also looking to travel and create his office on the go. As Wade was busy building his franchise, Kyle was a student at the University of Regina studying microbiology, and also working in the Neuro-Physiology lab researching spinal cord injuries. During this time, Kyle also worked part-time for his Dad, supporting the growth of the Regina franchise as he could between classes.
When Wade became ill, Kyle stepped in to support the business as well as his family in a much more active role, and by June 2015 he had all but taken over the business completely. When Wade passed away later that year, Kyle knew that he had an opportunity to continue on with his father's business that just could not be passed up. While Kyle held (and still holds) his love of Science, he recognized that Postcard Portables would afford a chance to support his family and also become very involved in his community. Kyle quickly understood that, through this business, he would be able to touch many lives. He also knew that few businesses have as much reach and ability to connect with the city and what is going on in and around it as his does.
Kyle's favourite thing about being part of a franchise system is that there are support networks in place that help prevent failure. The franchisor team is just as interested in your success as you are and they work to help you achieve your business goals.
What is Kyle's favourite thing about being part of the Postcard Portables team? He says "I truly feel that I am a part of a community amongst the other franchisees. Though the organization is growing across the country, the team still finds ways to have the 'small team' feeling where everyone works together." Kyle also notes that, in his experience, everyone who joins the team is eager to be there, they have goals that extend beyond "simply owning a business" which helps provide a family-like dynamic where each member of the family is keen to make an impact.
If you're considering joining a franchise, Kyle has this advice for you: "Owning a business may seem glamorous, and it can be, but it is also a lot of hard work. With a franchise, you get the best of both worlds – the freedom to run your own business, but also a set of systems and expectations to help keep you accountable." The lesson to be learned from Kyle is that not everything can, or should be planned in life. For now, with just 3 credits remaining, the degree in microbiology is yet to come, but it will! (Or, so goes the plan.)
The Wade Moffatt Memorial Gala 2017 is on May 5 and is held to raise support, awareness, and funds for mental health services in Saskatchewan. For more details, please visit the Facebook event here, or click here to purchase your tickets.