So often, entrepreneurship is born within men and women who have studied a craft much different than the businesses they eventually find great success in. The same is true for Reed, our Grande Prairie franchisee.
Fresh out of college, Reed started his career as a draftsman working for a forestry attachment manufacturer. Though the career path showed promise, after 9 years of dedication Reed found himself wanting more – so he bought a retail store! It was another 10 years before Reeds successful store was eagerly scooped up by a larger chain affording Reed some time to focus on finding something that would provide career fulfillment. Looking to avoid some of the challenges of retail ownership with his next endeavor (and after a short reconsideration of his drafting roots) Reed found himself browsing online for businesses that were currently for sale.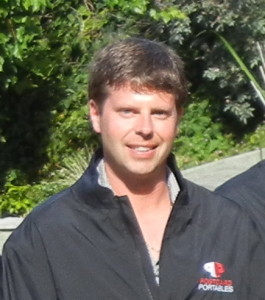 That's when he found Postcard Portables.
When Reed discovered the opportunity to become a Postcard Portables franchisee he was immediately drawn to the product and says, "I liked the unique look of the mini- billboards in particular. I thought it was a great idea and business concept." Now, after being with the team for 8 years Reed has found that with the winning concept comes the ability to truly be an entrepreneur again, with an opportunity to run the business in a way that is effective in his unique market. According to Reed, the Franchisor support is ever present and "while there are expectations to meet, there is a lot of flexibility and absolutely no micro-management."
According to Reed, one the best parts of being a Postcard Portables franchisee include: "Running a successful business with minimal staff – mostly only having to rely on yourself to get work done and deliver on time" and "though you can run this business from your home, it barely comes with the challenges of working from home. The team is constantly working together, you never feel like you're on your own and out of the franchise loop."
What does Reed love the most about being part of the team? He has a few favourite things; Support from the franchisor is ever-present and efficient, and the experience that comes with that support is invaluable. And it's not just the franchisor who is available for advice, franchisees are often working together as well and are always just a phone call away. Reed also loves that Postcard Portables is a self advertising business which, of course, greatly supports growth. "The more signs I was able to put out there, the more the phone started ringing."
Are you considering becoming a Franchisee? If yes, Reed has some advice for you: "Business ownership is not for everybody. Start-up can be tough, be prepared for possible long hours and slow initial growth, then, be prepared for when it really takes off!" Reed also says, "You get out of it exactly what you put into it, so put your whole heart into it."