Sal Di Franco and Stan Taylor of Postcard Portables Calgary have more than 40 years of combined experience in printing. They first met while working in sales for different print companies. Before long they realized that together they could take on a new and exciting challenge – entrepreneurship. In 2005 they opened their first business, a digital printing company, and hit the ground running.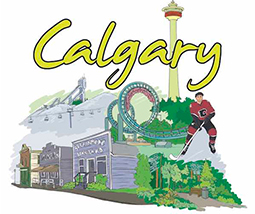 Like many entrepreneurs, Sal and Stan are often on the lookout for new ideas, products, and opportunities related to their primary business. They learned of the potential for mini-billboard rentals from Jerred and Aubrey Huber and became franchisees in 2009. Sal says "We recognized Postcard Portables as a way to create a larger footprint in the market. The product is a great extension of what we were already offering and there were many evident synergies that would work in our favor."
Not only was the product a great fit for their current business, Sal and Stan saw a clear gap in the market. "There were no portable signs with full-color graphics to be found in Calgary," Sal remarked. "Based on our research, no one was taking advantage of this particular market segment." Sal and Stan were drawn to the full-colour system. With their background in printing and the support of the franchise system, they knew that this opportunity would be easy to implement and that they could adapt quickly.
Sal identifies a major benefit of being a franchisee as the collaboration of all involved. He says "The franchisees and franchisors are a close knit group, with plenty of open, encouraging and insightful communication." He appreciates the opportunity to ask questions and learn from the victories and mistakes of others. "Much of the ground work has already been laid" says Sal. Although, he is quick to note that hard work and dedication is still required for success.
When asked what advice Sal could share with those who are considering becoming a franchisee in any industry he responded "Do a lot of digging so that you can be absolutely sure of what you are getting into. Consider the internal as well as the external factors of your specific market. Be prepared to really WORK. Success is not something that just comes by chance, a lot of effort is required, so be sure that you are able to manage your time and resources effectively."
If you are looking for help with your signage needs, contact Postcard Portables Calgary by phone at 403-971-2525 or email them at calgarysales@postcardportables.com