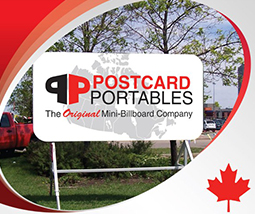 If you want your promotion to be successful, the right signage can make all the difference. How can you choose the right signage for your promotion? Use these tips to help choose the right type for your business' needs.
Location of your signage
This is the first thing you'll need to know in order to choose effective signage. Will you be advertising outdoors, inside your store or office, or at another venue?
Outdoor promotions require sturdy signs that can withstand the elements, particularly if they will be outside for a long period of time. Mini-billboards, crezone (wooden) signs, and even canvas signs can work well for an outdoor promotion.
Indoor signs tend to be less durable but that doesn't mean they don't make an impact. Window decals, posters, and popup banners on a stand are all great choices for promoting indoors.
Length of your promotion
If your promotion is going to last a while, or if it will repeat, choose signage that can be reused or used for a long time before you need to replace it. Dibond aluminum signs and crezone wooden signs are both great choices for long-lasting outdoor promotion. Wall mount signs that attach to the exterior of your building are another great choice for promotions that last for a while.
Shorter promotions call for something that can be removed easily and stored away until you need it again. Countertop signs, popup canvas displays, and foam board signs are all great, inexpensive signage for a short-term promotion. Placing a small sign or decal in your window is an easy way to advertise your promotion and these can be changed out as often as necessary, plus they can be reused if you decide to run the promotion again.
Think about where you want to promote and for how long before you choose your signage. That way you can be sure that your signs will meet your business' needs for as long as you need them to.