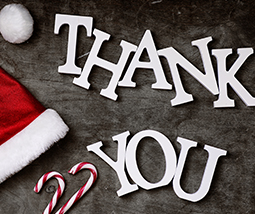 The holiday season is fast approaching and it is time to think about how to show customer appreciation. With so many innovative and personalized products available, it's easy to find one that suits your business.
SEND MEMORABLE GREETINGS
Holiday greeting cards are a welcome tradition during the festive season. They're colourful, festive and memorable, especially when you personalize them to show your business cares. They provide an inexpensive way to show customer appreciation or to invite customers to a special seasonal event.
CONNECT WITH CUSTOMERS
Seasonal postcards are an effective direct mail marketing tool and a great way to connect with customers during the holiday season. Promote upcoming specials or events, offer a discount to regular customers, or hand them out to generate new leads. With great options such as matte or glossy stock, lamination, or magnetic adhesive, they'll work for almost all demands.
MAKE A LASTING IMPRESSION
Calendars promote your business 365-days a year and offer an excellent opportunity to showcase products, services, or company representatives. Plus they increase brand awareness and offer additional revenue for retail operations.
THINK BIG!
Do you want to send a strong message to your customers they are sure to notice? Why not consider renting a Mini-Billboard or Junior Mini-Billboard for the holiday season?
Billboards offer large, eye-catching, full-colour graphics and 24 hour, 7 day a week exposure, plus you can place them where your customers are certain to see them since they're portable.
Choose from 4' x 8' or a 5' x 10' Mini-Billboards, or the smaller 4' x 4' Junior Mini-Billboard to shout "Happy Holidays!" or advertise your offerings.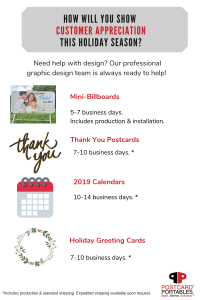 You needn't worry about the design or production aspect of any Postcard Portable products. We partner with you, and offer support and expertise throughout the entire process.
Postcard Portables is not just a sign company – we offer advertising solutions. CONTACT US ANYTIME – We're always happy to help!