If your organization wants massive exposure at a reasonable cost, we can help. Our large format banners take your advertising to new heights (and widths) to capture audience attention. They're an advertising solution that's almost impossible to ignore.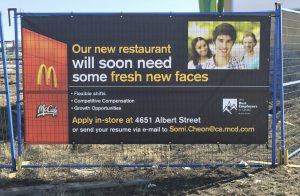 BIG IMPACT – REASONABLE COST
A big price tag often accompanies large format advertising, but our large format banners deliver the same wow factor, but at a much lower cost.
Your message appears in full-colour, and banners suit both indoor and outdoor applications. Banners also allow single or double-sided printing and can be hung vertically or horizontally to suit any location.
Our state-of-the-art printers can create your message up to 16′ by 50′ on a single piece of material. If you need a larger banner, we can combine pieces.
Here are just a few of the places our customers use large format banners:
Sides of office and retail buildings, schools, warehouses, and buildings under construction
Decorative and branded wall murals in stores, sports arenas, elevators, and lobbies
Canopies for events and buildings
Fences
Bridge Overpasses
Construction & Presentation Trailers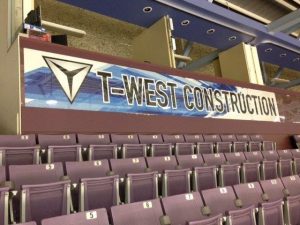 IDEA TO FINISHED PRODUCT QUICKLY
Customers often come to us with an idea, and ask us to make it a reality. If you do not have a design, our talented graphic design team can create one for you at little to no additional charge.
Once we have design approval, it normally takes no more than 4 days to complete your banner. Most banners have grommets for easy installation using string or bungee cords, but we're happy to assist you with installation if needed.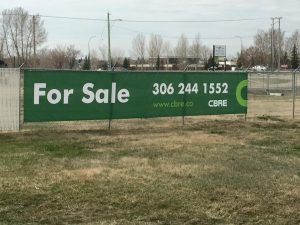 PORTABLE, DURABLE & VERSATILE
Banners are extremely durable and lightweight. All our banners are weather and tear resistant, and when handled properly they provide a very good return on your investment as you can use them many times.
We offer a variety of vinyl substrates suitable for light indoor use up to the most gruelling outdoor applications. Long-lasting, exterior-rated ink and 'wind-holes' cut into the outdoor banner (when needed) prevents excess strain and damage. If wind is a prominent factor, we also offer full-colour mesh banners.
Many customers find large format banners the ideal vehicle for their needs. Here are a few ways our large banners could help you too:
Grand openings
Rental enquiries
Temporary signage for construction projects
Point-of-purchase displays in retail outlets
Sponsor recognition
Sales or specials
Arts events such as museum exhibits, art gallery exhibits, movie posters, festivals, and theater or concert
performances
Conventions
Sporting events
Contests
Brand promotion
Trade show booths
Directional signage for new location or development
Celebrations such as birthdays, anniversaries, graduations, homecomings, engagements, parades, and weddings
Staff recruitment
Cautionary signs

UNPARALLELED CUSTOMER ATTENTION,

At Postcard Portables we offer you an unparalleled level of attention from initial concept through to completion. Our large format banner is just one example of how we can help you succeed, without breaking the bank.

We're local and approachable, so please contact us – we're happy to answer your questions and we provide no-obligation quotes.