Congratulations to our Medicine Hat, Alberta, owners for winning the Postcard Portables "Franchise of the Year" award for 2016. Hard work, dedication to the business, and taking care of their customers has made all the difference for Dustin Turcotte and Robert Campbell, and has resulted in them claiming the prestigious national title for the second year in a row.
As Dustin puts it…
"2016 was a very interesting year for our City and a struggle for many with the strange Alberta economy. Our role in this community is to support local businesses and we knew there would be all kinds of challenges to overcome this past year. We have always tried to make sure that our business is evolving to meet the demands of business owners in our City and this year was maybe the best example of that. With numerous re-investments into our business medhatFOTY2016this year and some critical planning that has allowed us to make one of the biggest evolutions in our business yet to kick off 2017, we are extremely proud of what we have accomplished over the last 10 years but we are looking ahead to the next 10 years and finding new and better ways to support the local business community.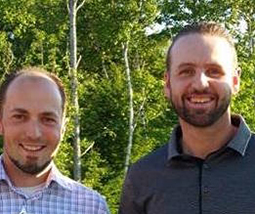 The most important thing to us is making sure we can provide a level of service to our clients that is second-to-none. We understand that each business is unique and has it's own specific challenges and goals. We enjoy learning about different businesses and their industries, which often helps us find the best solutions and ways to support them. We are truly grateful for the support our local business community has given us over the years and we are dedicated to making sure that we do right by them and continue our goal of providing excellent products, services and support."
Thank you to the City of Medicine Hat for your tremendous support of Postcard Portables, and to all of our clients across Canada for allowing us to serve you in 2016. Congratulations again, Rob and Dustin!
For more information on how Postcard Portables Medicine Hat can help with your next marketing campaign, call 403-977-7446 or visit: https://www.postcardportables.com/medicine-hat-ab/