MANY BUSINESSES FIND TRADITIONAL ADVERTISING COSTLY, ESPECIALLY WHEN THEY WANT TO SWITCH THEIR PROMOTIONS AS THE SEASONS CHANGE. LUCKILY, POSTCARD PORTABLES OFFERS MANY SOLUTIONS THAT SUIT SEASONAL PROMOTIONS, WITHOUT THE HEFTY PRICE TAG.
HERE ARE JUST A FEW EXAMPLES OF THE PRODUCTS WE OFFER AND HOW THEY HELP OUR CLIENTS NOW.
MINI-BILLBOARDS & JUNIOR MINI-BILLBOARDS
Billboards have always been a great way to capture audience attention. They're bold, colourful and a great way to deliver a memorable message.
Our Mini & Junior Mini Billboards offer affordability and portability. Place the sign where it gets the most attention, and pay a rental fee instead of buying the sign outright. Our customers use them for the following, but you'll probably think of a few ways you can use them for fall promotions too:
Furnace Tune Ups
Duct Cleaning
Fireplace & Woodstove Inspections
Chimney Cleaning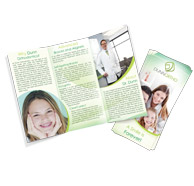 FLYERS / BROCHURES
Flyers and brochures are an excellent way to share important seasonal offerings with existing and potential customers. Our full colour, double-sided brochures and flyers are extremely cost-effective, especially when printed by the thousands.
Our clients use them for the following fall offerings:
Hockey & Ringette Schools
Ski & Snowboarding Lessons
Fitness Classes
Climbing Schools
Cooking Classes
Dance Classes
Brochures and flyers are also effective tools for direct mail campaigns to previous year's participants, to place on a counter to pique interest before a program or event date, and to hand out year-round so people realize you offer more.
LABELS
Labels are a great way to reinforce your brand and advertise seasonal products and events. You can literally print thousands for very little, but they offer enormous impact.
Here are just a few ways our customers use labels for fall promotions:
"Don't Forget To Register" Labels For Envelopes
Harvest Fair Reminders For Newsletters
"Ask Us About" Labels To Promote New Products & Services
Postcard Portables offers a quick turnaround and many sizes and colours, but don't let the small size fool you. Labels provide an excellent, inexpensive way to reinforce your message in a colourful, captivating format.
At Postcard Portables, we don't just design and rent signs. We offer consistent branding and printed business solutions and for all your needs. Let us help you increase your traffic and sales, while you watch your business grow.
If you have questions, please contact us. We have innovative, affordable solutions and provide no-obligation quotes.