Businesses in and around the city of Halifax, Nova Scotia, are about to have a lot more options when it comes to marketing, advertising, and brand recognition.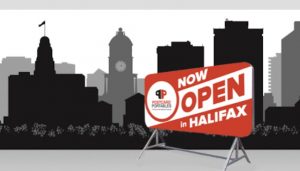 Postcard Portables, a franchise company specializing in mini-billboard and other high-impact signage, is pleased to announce a new location in the Maritime capital. Operations are up and running, and Halifax owners Corey and Lauren Bowes are eager to see their full-colour mini-billboards on the road. "Our product will allow businesses and non-profits in the Halifax Regional Municipality the opportunity to promote their brand in a professional, modern, and effective way. I know Haligonians are going to love it," Lauren said.
The Bowes team brings many years of professional experience to their Postcard Portables franchise. Corey has a distinguished background in the credit union industry, while Lauren has extensive expertise in marketing. They have a shared passion for entrepreneurship, which they were able to explore when they jointly owned and operated an ice cream shop in Moncton, New Brunswick, prior to moving to the Halifax region last June. They first became familiar with the Postcard Portables brand while residing in Moncton where they were able to witness the success of the Moncton franchise, which has grown significantly in the last five years. When the opportunity to move back to Corey's native Halifax presented itself, the couple decided it was the perfect time to not only return to Corey's roots, but to pursue their mutual entrepreneurial ambitions by starting their own franchise in Nova Scotia.
Corey and Lauren are already very active in the Halifax business community and the local, volunteer-centric Canadian Progress Club, where Lauren is a member of the Halifax Cornwallis chapter. They are very excited to assist the local business and non-profit sectors in the region with their advertising needs in order to facilitate a more profitable and prosperous Halifax community. According to Postcard Portables CEO, Jerred Huber, "Halifax is in excellent hands with the Bowes team. Their energy, enthusiasm, focus on growth, and passion for helping their fellow business owners will be the key to their success. We are very pleased to have them as franchise partners and look forward to working with them. We wish them every success in the near and long term."
Postcard Portables was founded in Regina, Saskatchewan in 2002 as "The Original Mini-Billboard Company" and has grown to have a major presence across Canada. Opening its first franchise in Edmonton in 2005, Postcard Portables Canada now has 12 franchise locations servicing most major markets in the West, as well as an expanding presence in Eastern Canada.
View the Halifax location page for contact information or to request a quote.