IF YOU OWN A VEHICLE, YOU'LL EVENTUALLY NEED TIRES AND AUTOMOTIVE SERVICES. Fountain Tire ON VICTORIA AVENUE IN REGINA WANTED TO INCREASE VISIBILITY IN THEIR MARKET TO SET THEM APART FROM THE COMPETITION.
Jason Johnson became the local owner and manager of the Fountain Tire on Victoria Avenue in Regina in 2011. He understood local community is always extremely important for a successful business in their niche and wanted to cultivate local traffic.
Jason lives 3km from his store on Victoria Avenue. He is truly part of the community and he has built his company around the community and family values of respect, transparency, and integrity.
He's excited he can tap into what's happening in his neighbourhood and tailors his local promotions and services to what people need. This includes their famous 4 for 3 tire sale (which, by the way, is still on until October 28, 2017), their mechanical services like oil changes and winterizing vehicles for cold Regina winters. They also offer brake, steering, suspension, cooling, exhaust, and electrical services, and more.
When he started looking at his marketing needs, he needed a solution that was flexible, affordable, and quick with updates and was able to find a great solution in Postcard Portables' Mini-Billboards. They strengthen Fountain Tire's brand identity and drive local traffic to their location.
Mini-Billboards offer the advantages of traditional billboards, but Johnson rents the signs to avoid unnecessary capital costs. He can also change up their marketing message when necessary, as the entire process from consultation to installation usually happens within 5 to 7 days.
Fountain Tire on Victoria Avenue in Regina continues to use Mini-Billboards to achieve their marketing goals, but Johnson says it is Postcard Portables' customer service that sets us apart from others. "Kyle & his crew have always been exceptional. They even help me with change of the signage when I happen to forget from time to time. They're very friendly & very helpful in everything that I need when it comes to advertising & signage information."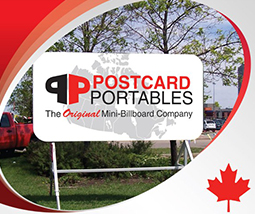 At Postcard Portables, we don't just design and rent signs. We offer consistent branding and printed business solutions and for all your needs. Let us help you increase your traffic and sales, while you watch your business grow.
If you have questions, please contact us. We have innovative, affordable solutions and provide no-obligation quotes.