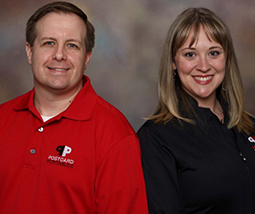 What do you get when you combine a Kentucky marketing and PR manager with a Halifax commercial banker? A Halifax-based Postcard Portables franchise duo, of course.
For the first entry in our Franchisee Spotlight series, we'd like to welcome the newest members of our Postcard Portables family, Lauren and Corey Bowes in Halifax.
With backgrounds in the banking industry, Lauren and Corey met in Vegas at a Credit Union convention. Not long after, Lauren was "retiring" from her full time Marketing and PR career to move to Moncton, New Brunswick to open an ice cream shop with her soon to be husband. It was during this summer venture that they got their first taste of professional independence (and perhaps one too many ice cream flavours). During their time of small business ownership Corey and Lauren met Moncton Postcard Portables Franchisee, Luke and learned about the many benefits of franchise ownership. With a strong desire to maintain independence from the 9-5, and a high value on autonomy, the Postcard Portables franchise became a front-runner among possibilities.
After researching further, and learning details regarding the products popularity and quality, Corey and Lauren discovered an opportunity to return to Corey's home province of Nova Scotia where a Franchise territory with Postcard Portables was available.
It has now been a year since settling into Halifax and launching their Postcard Portables franchise, and as the word of mini-billboard advertising spreads, Corey and Lauren gratefully reflect on their decision to take "the leap."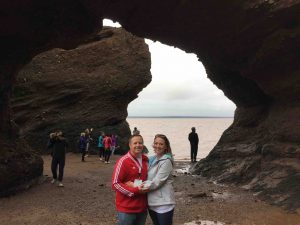 The benefits of owning a Postcard Portables franchise, as described by Corey and Loren, include:
Franchise-wide team support and collaboration.
Offering a premium, high quality, branded advertising option that is unique in the market.
Product range from business card printing to mini-billboards means that every business can find the advertising solution they are looking for.
A convenient and consistent process, including graphic design.
Autonomy and independence with an added bonus of having a franchise system for support – including shared tips, leads and brainstorming sessions that benefit everyone.
Economies of scale, and cost sharing.
Lauren and Corey also describe the Postcard Portables franchisee team as "A great group of down-to-Earth, helpful team-players who like to work together to see every franchise succeed." With no secrets between them, they are true allies who are passionate about sharing in the successes as well as the learning opportunities.
One of the qualities that Lauren and Corey love most about Postcard Portables is not only the ability to support local business growth, but also charities and causes that are important to them. In fact, the first mini-billboard to hit the streets of Halifax was in support of a local not-for-profit organization of which Lauren is a member, rather than a profitable sale.