Billboards have always been a great way to reach out to people as they drive, cycle, or walk through a neighbourhood. They're large, eye-catching, and leave a lasting impression. However, a traditional billboard is stationary, very expensive, and inaccessible for many organizations. Postcard Portables' mini-billboards solve these dilemmas.

AFFORDABLE & EFFECTIVE
Our unique product offers the advantages of a traditional billboard, without its restraints. It's a sign for our times, because it offers cost-effective advertising and flexibility in a fast-paced, competitive world.
Customers rent their mini-billboard to avoid unnecessary capital costs. They still benefit from 24 hour, 7 day a week exposure like a traditional billboard, but they rent a mini-billboard at a fraction of the cost. Customers can also change up their marketing message when necessary, as the entire process from consultation to installation usually happens within 5 to 7 days.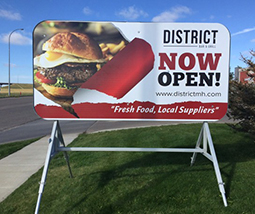 POWERFUL GRAPHICS . . .FAST!
Our mini-billboards pack a punch, despite their smaller size. They offer full colour, double-sided graphics with plenty of space for the customer's message. After a client consultation, Postcard Portables designs, produces, and installs the mini-billboard, and obtains a permit for the installation too.
Our mini-billboards travel well and they are also extremely durable. They resist strong winds, pelting rain, low temperatures, and UV damage. Depending on the local bylaws, customers can choose from either a 4′ x 8′ or a 5′ x 10′ Original Mini-Billboard, or the smaller 4′ x 4′ Junior Mini-Billboard, if space is an issue.
We service many large, high profile clients including Tim Hortons, Safeway, Esso, Burger King, and more. However, the reasonable rental price makes mini-billboards an excellent option for small to mid-sized business, communities, politicians, educational institutions, and charities too.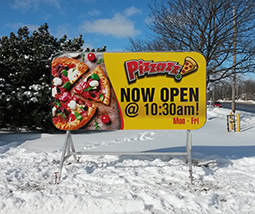 VERSATILE & TRACKABLE
Our customers use mini-billboards for various marketing efforts. Here is a brief list of ways our mini-billboards could help you too:
Offer exclusive discounts and sales promotions
Advertise new products or services
Promote a grand opening, golf tournament, concert, festival, community markets, or other special events
Direct customers to your new location
Recruit employees
If you want to use analytics during your campaign, we can add a short, simple code to identify your campaign on your billboard such as "SUMMER2017". You can then track the response through your website analytics.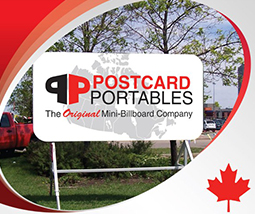 OUTSTANDING CUSTOMER SERVICE
At Postcard Portables, we don't just design and rent signs. We offer customers an unparalleled level of attention from initial concept to on-site installation. We listen to your needs, offer suggestions, and create your marketing message.
Our exceptional in-house graphic design team and world class print facility create eye-catching, colourful mini-billboards that deliver results. Let us increase your traffic and sales, while you watch your business grow.
Our mini-billboard is just one example of our many innovative signage products. If you have an outdoor advertising need, Contact us – we're happy to answer your questions and we provide no-obligation quotes.