Postcard Portables' fresh take on signage is providing an innovative solution for business owners who want to make a big impact, but with less advertising space, and a smaller investment.
"We specialize in mini-billboards, which are smaller billboards than the ones you see on the side of highways, for example. We make them a bit smaller so we can put them in front of businesses like fast food chains and car dealerships. They find it really effective to have professional billboard advertising, right on their location," says Aubrey Huber, Chief Operating Officer, adding that the signage is also useful for businesses without a physical location, or looking to promote another location.
The company's President and CEO, Jerred Huber, founded the mini-billboard advertising company in 2002, which set the stage for the success of Postcard Portables. The company opened its first franchise in Edmonton in 2005, and has now expanded into 6 provinces, spanning the country from Alberta to Nova Scotia.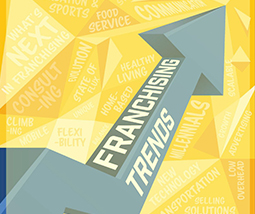 "We've grown pretty organically as a franchise system, and have noticed tremendous growth within our units over the last 10 years. It's been a great business – advertising in general has been very robust through the North American recession, and we've never really experienced any downturn," says Aubrey.
Aubrey says since the model requires minimal staffing and low overhead, Postcard Portables is an attractive franchising option for prospective franchisees. "We're home-based, so in the beginning, it's pretty easy to put all of the initial investment into building your inventory, versus building a storefront. With online marketing and direct sales, as long as you put the effort in, the business will grow."
"The advantage for new franchisees is that we have a proven product lineup and many established systems in place, so it's a turnkey operation," adds Jerred. "On day one, franchisees are able to go out and promote the products we offer. It's a very simple business to start up and maintain when our corporate systems are followed properly."
Jerred says franchisee candidates need to have a strong thirst for success, especially when they're going to be working from home. "We're looking for that individual who is disciplined, with some sales and managerial experience, and the foresight to look forward and realize they're in control of their own destiny with a lot of opportunity in front of them. We're talking about advertising, where The Statistics Portal reports$14.6 billion was spent in Canada in 2015 and they forecast that number to exceed $15.5 billion in 2017. That's a huge opportunity for anybody to come into, but we need that person with big goals, with big ambition."
The tremendous opportunity, says Aubrey, definitely isn't going anywhere, either. "Advertising will always be around: we will always need to advertise, businesses will always have the need to generate more customers and clients. As long as businesses exist, we will exist in some form."
The opportunity is particularly great for Postcard Portables, because franchisees can easily meet the needs of their clients. "It's a really great way for even small businesses to look professional without a lot of time, effort or money. They can scale it as much as they want,or they can start very small with us, whereas with a lot of other types of advertising, that option doesn't exist," explains Aubrey.
This article was published in the January/February 2017 edition of FranchiseCanada Magazine, a publication put out by the Canadian Franchise Association