The Postcard Portables team is very honoured to be assisting the Red Cross to encourage donations that will help the residents of Fort McMurray in the relief efforts.
The idea was brought forward by the Regina, SK, franchise team. When the concept of a national campaign was introduced to the entire group of franchisees across the country, they were quick to jump on board to help support the people of Alberta and help raise funds for this cause.
The Mini-Billboard campaign provides information about how people can donate to Red Cross initiatives in Fort McMurray. There are now billboards up in many locations across Canada serving this purpose.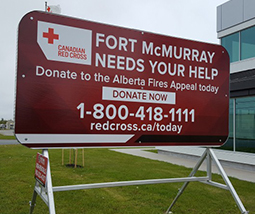 "As a Canadian company with many locations in Alberta and Saskatchewan, we felt it was important to support the people that have been impacted by the devastating fires in and around Ft. McMurray through supplying billboards to the Red Cross donation effort at no cost to them. Our franchise owners knew that their local communities would respond to the need and were happy to get involved." – Jerred Huber, Postcard Portables Canada
If you would like to donate to the Red Cross to support relief efforts in Alberta, call 1-800-418-1111 or visit http://redcross.ca/today