It is such an honour to be recognized as a recipient of the Canadian Franchise Association's Franchisee Choice Designation for the third year in a row!
Here is a press release highlighting the details as presented at the Annual CFA Convention this past weekend, originally posted on prlog.org:
POSTCARD PORTABLES RECOGNIZED WITH FRANCHISEES' CHOICE DESIGNATION FOR THIRD CONSECUTIVE YEAR
Postcard Portables has been recognized for the third year in a row with the Franchisees' Choice Designation by the Canadian Franchise Association.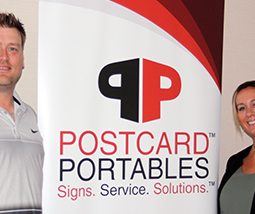 Postcard Portables Canada
Awards
REGINA, Saskatchewan – April 5, 2017 – PRLog— Postcard Portables was recognized with the Franchisees' Choice Designation at the Gala Awards Ceremony of the Canadian Franchise Association's Annual Convention. The event, which was held at the Sheraton on the Falls in Niagara Falls, was part of the 50th year celebration of the Canadian Franchise Association.
The Franchisees' Choice Designation is awarded to those franchises that have exceptional rankings when it comes to franchisee satisfaction. Those rankings are identified through scores achieved when franchisees voluntarily participate in the CFA Awards Program survey, which allows franchisees to assess their franchisors in areas such as business planning, leadership, marketing, training, operations, and relationship management. Recipients of this designation all receive scores that exceed the benchmark of franchise performance standards.
For Postcard Portables CEO and COO Jerred and Aubrey Huber, this designation is very meaningful because it shows them the level of support that they have from their franchisees and the level of cooperation that exists within their franchise overall.
They respond to the recognition by saying, "We are incredibly honoured to receive the Franchisees' Choice designation from the Canadian Franchise Association for the third consecutive year. It is both a privilege and a pleasure to work with such capable and committed Postcard Portables franchise owners. It is undoubtedly their hard work that has been the cornerstone of success for this brand."
About Postcard Portables
As Canada's Original Mini-Billboard Company, Postcard Portables has been providing outdoor business signs to clients since 2002. The company has franchise locations nationwide and offers a wide variety of custom signage options for many different types of campaigns. Postcard Portables has a team that offers national and locall-owned companies the advertising expertise they need to effectively market themselves by utilizing their unique concept of outdoor full-color mini-billboards. They are committed to becoming the leader in every market they serve by offering exceptional advertising products and outstanding customer experiences. Find out more about Postcard Portables by visiting their website (http://webresellerscanada.com/postcardportables).
About the Canadian Franchise Association
The Canadian Franchise Association (CFA) is the recognized authority on franchising in Canada. With almost 600 corporate members nation-wide, representing many of Canada's best-known brands, CFA is the indispensable resource for the franchise community and advocates on behalf of franchisors and franchisees in Canada to enhance and protect the franchise business model. CFA promotes excellence in franchising and educates Canadians about franchising, specific franchise opportunities and proper due diligence through its many events, programs, publications, and website (http://www.cfa.ca).
Contact
Jerred Huber, CEO Postcard Portables
******@postcardportables.com
This designation means so much to us and we feel so fortunate to have such an incredible team!