BUILDING BRAND RECOGNITION REQUIRES DILIGENCE. HOWEVER, MANY COMPANIES EXHAUST TRADITIONAL ADVERTISING OPTIONS AND STRUGGLE TO ATTRACT NEW CLIENTS.
FORTUNATELY, POSTCARD PORTABLES OFFERS MANY INNOVATIVE SMALL FORMAT PRINT SOLUTIONS TO AUGMENT YOUR CURRENT ADVERTISING, INCREASE YOUR REACH, OR BREATHE NEW LIFE INTO A TIRED CAMPAIGN.
HERE ARE JUST A FEW NOVEL ADVERTISING FORMATS TO CONSIDER FOR BUSINESS GROWTH AND SUCCESS.

AFFORDABLE NOTEPADS
Notepads offer a very affordable way to reinforce your brand, repeatedly. Postcard Portables prints 20 and 50 sheet bound notepads, so every time a potential or existing customer writes a new note, they're reminded of your business. They also have a mysterious habit of traveling to unintended people, to further strengthen your brand and increase reach.
Postcard Portables offers coloured stock and design freedom, including watermarked backgrounds suitable for your company logo or tagline. They're so affordable you can leave them on the front counter, take them to trade shows, or supply your sales people with notepads when they travel.
COMPANY POCKET FOLDERS
Pocket folders offer an excellent way to organize single-sheet documents and reinforce your brand. If you change your products or services, just insert a revised sheet instead of reprinting a large document.
Pocket folders work well for presentations or marketing packages to provide detailed information. Postcard Portables offers full colour printing and a variety of folder styles and colours to suit your business needs.
VERSATILE LABELS
Labels are another simple, inexpensive way to establish and strengthen your brand. Use them for packaging, promotions, events, or special occasions.
Add a bar code, list product ingredients, provide your logo and return address, or make people smile. We offer a quick turnaround, and many sizes and colours. Print thousands for a very small investment.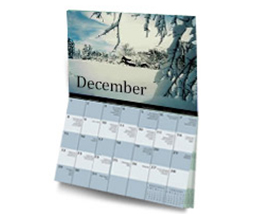 PERSONALIZED CALENDARS
Personalized calendars deliver for an entire year. They're always in sight so many people access your brand. Hand them out as gifts before the New Year, or customize them and sell them in your retail store.
The Postcard Portables talented graphic design team can add specific products, photos of personnel, or an attractive, high-resolution image to capture people's attention. We offer full colour printing and a variety of calendar styles.
At Postcard Portables, we don't just design and rent signs. We offer consistent branding and printed business solutions and for all your needs. Let us help you increase your traffic and sales, while you watch your business grow.
If you have questions, please contact us. We have innovative, affordable solutions and provide no-obligation quotes.