OUR CUSTOMERS KNOW POSTCARD PORTABLES BEST FOR OUR INNOVATIVE MINI-BILLBOARDS AND SIGNAGE PRODUCTS, BUT WE OFFER MUCH MORE. OUR SMALL FORMAT PRINT SOLUTIONS SAVE YOU TIME AND MONEY, BECAUSE YOU ACCESS WHAT YOU NEED UNDER ONE ROOF.
HERE ARE JUST A FEW OF POSTCARD PORTABLES' SMALL FORMAT PRINT SOLUTIONS TO HELP YOU STRENGTHEN YOUR BRAND AND GROW YOUR BUSINESS.
MEMORABLE BUSINESS CARDS
Printed business cards remain a key player in business marketing. They're cost-effective, easy to distribute, and a simple way to create a lasting impression.
Today's business cards offer innovation. Besides essentials such as your company name, logo and contact information, business cards from Postcard Portables can include eye-catching, memorable extras. We offer full colour embossed and debossed cards, metallic text, cut corners, and translucency. You can also print double-sided if you want to add useful information such as a map or brand specific enticements.
The turnaround time on business cards is very quick and since they're so affordable, hand them out freely for maximum exposure.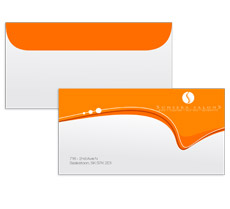 BRANDED LETTERHEAD & ENVELOPES
Letterhead is an essential part of corporate identity. Whether you decide to include all contact information or use a simple version with just your company name and logo, letterhead provides instant brand recognition and legitimacy.
If you already have your brand identity, we'll match your letterhead to your corporate colours. If you're just starting out, our graphic design team can create an image for you.
Postcard Portables offers single sheet and bound letterhead pads, and printed envelopes in many sizes for all your business needs.

FULL COLOUR FLYERS/BROCHURES
Flyers and brochures are an excellent way to share important business information with potential customers and to let existing customers know about additional products and services.
Postcard Portables offers full colour, double-sided printing and many attractive fold options to create striking designs. They are very cost-effective, especially when printing high volumes. They work well in counter and wall racks, when added to mailed correspondence, or for sales reps when they're meeting potential clients. Brochures and flyers are also effective tools for targeted direct mail campaigns.
Our in-house graphic design team can create an impressive flyer or brochure to satisfy your advertising needs and budget.
At Postcard Portables, we don't just design and rent signs. We offer consistent branding and printed business solutions for all your needs. Let us help you increase your traffic and sales, while you watch your business grow.
If you have questions, please contact us. We have innovative, affordable solutions and provide no-obligation quotes.