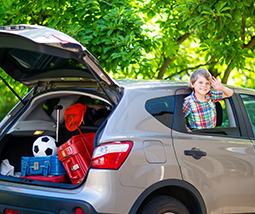 Outdoor advertising is a powerful promotional tool, but especially during the summer months. Warm weather means people tend to pause more often in their travels and look at what's around them. The longer days also mean more opportunities to deliver your message.
Portable outdoor advertising offers even more. Your business can hit the road with its message, position it where it counts most, reach more people, and most importantly – dramatically increase your exposure.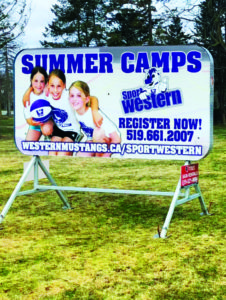 CREATE A GREAT FIRST IMPRESSION
People lead busy lives and they're constantly bombarded with information. Your business only has a few seconds to deliver its message and make a great first impression. Outdoor advertising products offer large eye-catching graphics, full colour, and punchy, easy-to-read text. They're hard to miss and make a great first impression.
Instant Brand Recognition
Studies show potential customers need to see your brand many times before they'll reach out and connect with your business. Situating your brand in places potential customers see instills confidence and makes it more likely they'll become long-lasting clients.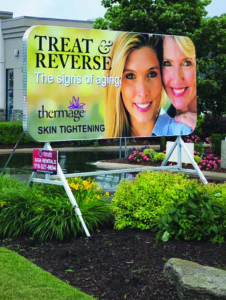 AFFORDABLE & EFFECTIVE
Many businesses believe outdoor advertising is beyond their budget, but this isn't true. Postcard Portables' outdoor advertising products are extremely affordable and highly effective. For instance, you can rent a Mini-Billboard and still receive the 24/7 exposure of a traditional billboard, but without the capital cost.
Other products such as vinyl banners with stands, A-frames, posters, and car magnets make it possible to take your business on the road for very little and they provide a great return on investment.
Quick & Versatile
Business changes quickly and you need products that respond to your needs. Fortunately, most outdoor advertising products take less than a week to produce. They're also so affordable you can change your message whenever needed, without spending too much.
If you want to advertise new products and services, direct potential customers to your location, or promote an event, you can't beat the responsiveness and impact of outdoor advertising products.
Postcard Portables offers many innovative outdoor advertising products to dramatically increase your company's exposure. We're not just a sign company – we offer unparalleled customer service and advertising solutions. CONTACT US ANYTIME – We're always happy to help!