"UNABLE ARE THE LOVED TO DIE. FOR LOVE IS IMMORTALITY." ~EMILY DICKINSON
It is with heavy hearts that we announce the passing of our dear friend and franchise owner, Wade Moffatt.
Wade was one of the kindest and most compassionate individuals one could ever meet. Always the gentleman, he radiated sincerity and joy everywhere he went. He cared deeply about many things: family, running, and simply making the world a better place.
As soon as Wade joined Postcard Portables Regina, his love for the advertising industry was apparent in everything he did. He genuinely loved working with local clients on every aspect of their marketing campaigns. Wade was also very passionate about contributing his time, energy, and business resources to charitable causes. The Saskatchewan Red Cross and the Regina Food Bank are just two of the many organizations that were dear to his heart.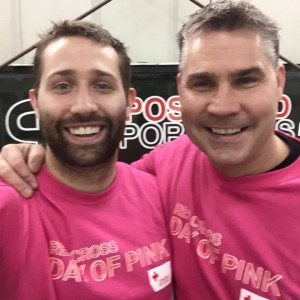 Wade's kindness and talent have also become evident in his son, Kyle, who began working in the business alongside his father in 2014. The two of them were an outstanding team and grew the local franchise to a new level of success. Despite it all, we now know that Wade had been fighting a long-term inner battle with bipolar disorder and alcoholism.
Regrettably, the treatment Wade sought was not able to bring him out of the darkness, and on August 20th 2015, he passed away.
Losing Wade has been a tremendous loss to the Postcard Portables family. The outpouring of support from all of our current and past Saskatchewan-based clients has been incredible. It has meant so very much to see how much he was loved and how many lives he touched.
Wade's family has made the brave decision to bring the conversation of mental illness and addiction to the forefront, in hopes that it will help others. We applaud their efforts and hope that more awareness can bring a better future to those who face similar challenges.
We will miss you, Wade. We will never forget the light and love you brought into our lives.