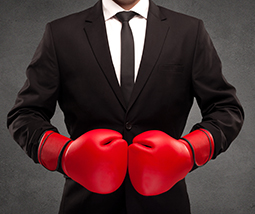 Large companies often have more resources than small brands, but that doesn't mean your business can't compete. These three tactics are proven methods to give you the competitive edge you need against big brands.
1. KNOW YOUR CUSTOMER
Big business relies on computers to track customer behaviour. However, computers can't provide the level of personalization you can provide when you deal with people directly.
According to a study conducted by Accenture, half of all consumers are more likely to shop with a company that knows their name. As a result, a friendly, well-informed person who acknowledges a customer by name, answers questions, and makes suggestions is a great way to beat out large companies. People crave personalized service.
2. PROVIDE OUTSTANDING CUSTOMER SERVICE
Big companies focus on volume sales, not great service. If a customer has a question, it can be difficult for them to connect with support immediately. Who enjoys pressing numbers in an automated phone funnel and then waiting to connect with a customer service representative while listening to a looped music track?
Your small brand can crush big competitors, because you're available. You can answer their call directly. You can also provide valuable advice specific to your client, eliminate lead times, and deliver quickly.
When your small brand goes the extra mile and delivers top-notch products it often leads to long-term business and referrals, the key to any successful business.
3. PROMOTE YOUR BUSINESS
Large companies often use costly advertising to attract potential customers to their brand. However, small brands have many affordable, effective products available to them to drive local brand awareness.
For instance, Mini-Billboard advertising offers portability, impact, and 24/7 exposure. Eye-catching graphics unlike mass media advertising, break through the clutter and leave a lasting impression at a fraction of the cost.
Inexpensive direct mail flyers and brochures allow your business to blanket the local market or target specific leads. A-frame signs outside your business identify your brand and/or promotion and encourage walk-in traffic.
Your small brand has plenty of innovative advertising options. Let us help you crush the large companies, and stick to your budget.
Postcard Portables is not just a sign company – we offer advertising solutions. Let us help you put your best foot forward.
CONTACT US ANYTIME – We're always happy to help!