Vinyl banners and retractable pull up stands are the perfect combination for advertising on the move. The combination delivers top-notch graphics, versatility, and mobility for a very reasonable cost.
OUR QUALITY VINYL BANNERS Postcard Portables' digitally printed vinyl banners make it easy to deliver your message in vibrant, accurate colour. They're also very affordable, especially if you buy an upgraded banner stand which allows you to change the banner when needed.
We're happy to bring your idea to life, or assist you with a design. You have complete control of the entire banner design, and you have plenty of space. A standard banner for a retractable stand measures 33″ wide by 81″ long, but we offer custom banners and stands to suit any budget. Each stand includes one banner, making the combination even more attractive.
EASY ASSEMBLY
Well-designed retractable stands utilizing vinyl banners make setup and tear down a breeze. The retractable system allows you to pull your banner upwards from the base, slot a 3-piece pole into place and boom, you're done. The sturdy base and pole holds the banner firmly so it does not swing or sag, and both the banner and stand are extremely durable.
COMPACT & PORTABLE
Banner stands do not take up much floor space, so they suit tight areas. Whether you're displaying your banner in a hall, classroom, or office, they offer a minimal footprint and dramatic vertical exposure.
Pull up stands and vinyl banners are easy to store at the office, in your vehicle, or if you fly. Some models vary, but overall, lightweight banners fold easily and stand components fit into the convenient storage bag provided with each unit. The lightweight stand and banner stay together in the bag, and it's easy to transport.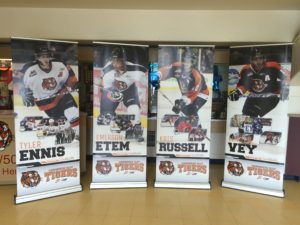 EXCELLENT ROI
When you buy a retractable pull up banner stand, you can use it repeatedly. Vinyl banners are also very durable, tear resistant, and reusable when handled properly.
Upgraded banner stands allow you to change your message, just by swapping out the banner. Postcard Portables can usually complete your new banner in just a few days after design approval.
Here are a few of the places our customers use pull up stands and vinyl banners:
Trade shows & exhibitions
Sales presentations
Mobile corporate presentations
Mobile educational displays
Travelling exhibits, festivals, and performances
Retail promotions & sales
Daily, weekly, or seasonal restaurant specials
Sidewalk signs
UNPARALLELED CUSTOMER ATTENTION
At Postcard Portables, we offer you an unparalleled level of attention from initial concept through to completion. Our vinyl banners and retractable pull up stands are just one example of how we can help you succeed, even when you have limited space and a limited budget.
We're local and approachable, so please contact us – we're happy to answer your questions and we provide no-obligation quotes.